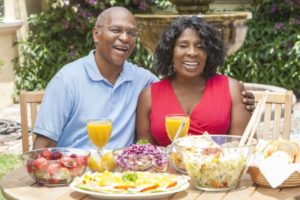 In the dog days of summer, very few things are better than trying to beat the heat with family members and friends. Whether you're grilling burgers in the backyard or munching on snacks at the neighborhood pool, the best summer get-togethers involve all kinds of delicious food. You might have trouble enjoying many of these summertime staples if you're missing teeth or wearing a loose-fitting denture. If you've replaced your teeth with dental implants, though, you can dig into almost all of the yummy meals and snacks as your loved ones. Here's what you need to know about the summer foods you can eat with dental implants in Las Cruces!
Crunch on Healthy Fruits and Veggies
Meat is often the main attraction at summer gatherings, but crunchy fruits and vegetables deserve their time in the spotlight too! Whether they're eaten raw or spend some time on the grill first, foods like celery, apples, and carrots can boost your oral health as well as your whole-body health. They function as natural toothbrushes by scrubbing your teeth clean and stimulating saliva production. People with dentures may have difficulty eating fruits and vegetables, but dental implants let you easily maintain a nutritious diet.
Be Careful with Corn
One of the only vegetables that might give you trouble is corn on the cob. While this summer staple is perfectly safe to eat with dental implants, the kernels might get trapped between your gums and the implant. Just to be on the safe side, you can cut the corn off of the cob before you start eating.
Chow Down on Juicy Steaks
While dentures make chewing some meats difficult and uncomfortable, rest assured that dental implants make eating steaks a breeze! You'll be able to chew with almost the full power that you had before any of your teeth were lost. Keep in mind, though, that you may want to try eating softer meats at first, especially if you're still getting used to your implants. Prevent your steak from becoming too tough by cooking it medium rare.
If You're Not Sure, Ask Your Dentist!
For the most part, dental implants function just like your real teeth. However, if you ever find yourself up against a food that you're not sure is safe to chew, it never hurts to call your dentist and make sure. After all, you made an investment to rebuild your smile, so you'll naturally want to protect it.
Now that you know which summer foods you can eat with dental implants, feel free to plan your warm-weather get-togethers accordingly. If you take good care of your implants, you can expect to enjoy several decades of healthy, complete smiles!
About the Authors
Dr. Natalie J. Ortiz and Dr. Ramon M. Ortiz are a talented, experienced husband-and-wife dental team at Painted Skies Dental Center in Las Cruces, NM. Their goal is to provide dental care in a comfortable environment that not only improves a patient's oral health, but also ensures better overall health. They happily provide dental implant treatment in conjunction with local implant experts. To learn more about the benefits of dental implants in Las Cruces, contact their office at 575-521-8720.