Dental Implants – Las Cruces, NM
Revitalize Your Smile After Tooth Loss
Traditional tooth replacement options restore only the visible portions of teeth, leaving the jawbone and gum tissue without support or stimulation, which may cause gradual loss of tissue density. Additionally, most other forms of tooth replacement are anchored to remaining healthy teeth or supported by the jawbone and gum tissue, which puts excessive pressure on these structures and potentially leads to further tooth loss. The best long-term tooth replacement options are dental implant-supported prosthetics as these solutions restore the entire tooth—roots and all. Dental implant posts are inserted below the gum line where they mimic the underlying root structures supporting any number of replacement teeth. We work closely with a trusted specialist to plan and place the appropriate number of implant posts, and once you have fully healed following dental implant placement, you return to Painted Skies Dental Center in Las Cruces to have a custom restoration attached to your implants. Contact our knowledgeable team to find out more or schedule a dental implant consultation today.
Benefits of Dental Implants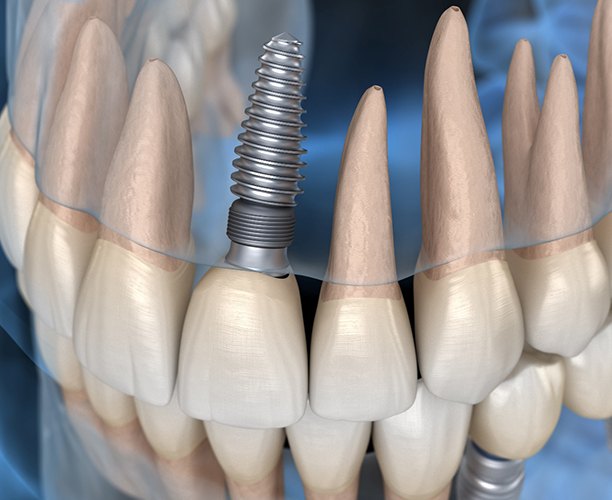 Compared to other tooth replacement choices, dental implants address the entire missing tooth, including the root. As a result, dental implants have strong advantages over bridges and dentures, such as:
Long lifespan. While bridges and dentures need to be replaced about every 7 to 10 years, implants can last over 30 years!
Better oral health. Implants stimulate the jaw bone, helping it remain strong and healthy.
No impact on your natural teeth. Unlike bridges and partial dentures, dental implants rely on the surrounding teeth for support, which can weaken these teeth.
Added security. Because implants are embedded into the jaw bone, you can bite, chew, speak, and smile without worrying about your replacement teeth coming loose.
Indications for Dental Implants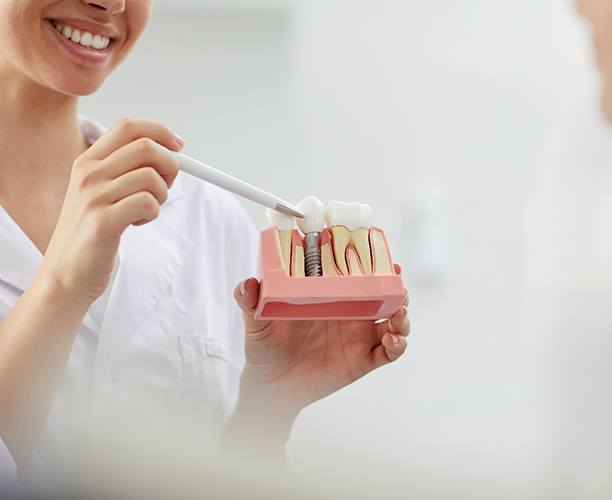 Whether you've lost one tooth or an entire arch of teeth, there's a dental implant solution that can meet your needs. By combining dental implants with dental restorations, you can regain your smile's health, function, strength, and beauty.
Missing Single Tooth
For single missing teeth, we attach a dental crown to an individual implant, which will be surgically placed into your jaw bone by a specialist. Once the jaw bone has grown around it, you'll return to our office so that we can attach the dental crown on top.
Missing Multiple Teeth
When patients are missing two teeth in a row, we typically create two dental crowns fused together that are attached to a single dental implant. Those patients missing three to four consecutive teeth will likely need a fixed bridge which consists of three or four prosthetic teeth crafted as a single unit and supported on either end by a dental implant post.
Missing All Teeth
Full dentures traditionally are held in place through suction between the denture and the gums, but implant-supported dentures offer superior support and stability by anchoring the denture to four or more dental implant posts.
Understanding the Cost of Dental Implants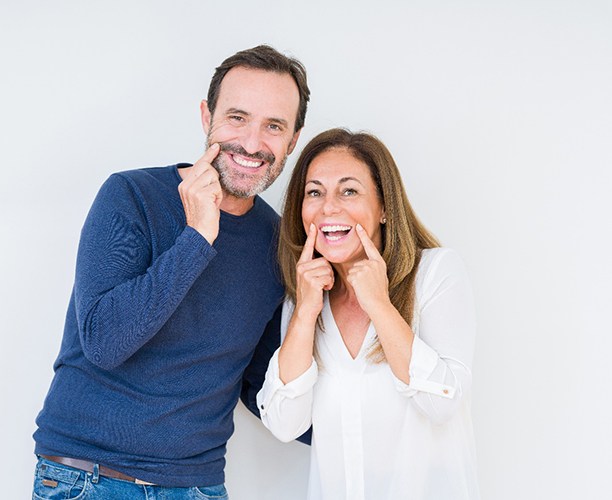 Although dental implants typically have a higher upfront cost compared to bridges or dentures alone, implants are typically considered the wisest financial decision for tooth replacement because they last much longer and offer a higher quality of life. The cost for your dental implants will depend on how many you need, the type and location of your implants, and the restoration that will be attached to them. At your consultation, our team can help you determine an accurate price for your specific treatment to get your smile back up to par.
Dental Implant FAQs
Even with all this information within your reach, you likely still have questions about this revolutionary solution for tooth loss. At Painted Skies Dental Center, we want you to feel confident about your treatment decisions and have all your needs met. Click below to view some of the most common questions we've been asked about dental implants and our helpful responses. We hope these will help you prepare for your consultation with us and help you determine whether dental implants are the right choice for you and your smile!
What are Dental Implants?
Dental implants are small posts that are surgically placed into the jawbone replacing tooth roots following the loss of one or more teeth.
What Materials are Dental Implants Made From?
Dental implants are available in a variety of metals, ceramics, and polymers. We will most often recommend high quality, time-tested titanium implant posts. However, for those patients who have metal allergies or sensitivities, a zirconia implant may be a better option.
What is the Implant Placement Procedure Like?
Your implant placement surgery is actually minimally invasive and completed quickly and comfortably. We numb the area around the empty socket. Then, a small incision is made into the soft tissue. Your implant post is placed. A protective cap is attached to the implant post. Then, you'll wait for three to six months in order to allow the implantation site to fully heal and the implant post to fuse with the gums before returning to our office to receive your final replacement tooth or teeth.
How Many Implant posts do I Need?
The number of implant posts you need depends on how many teeth are missing and where they're located in your smile. We will usually recommend the following:
One implant post will support a dental crown, replacing a single missing tooth.
Two implant posts can be used to support a fixed bridge, replacing two or more consecutive missing teeth.
Three to six implants will be strategically positioned to support a partial or full denture.
Are Dental Implants Expensive?
The cost of dental implants varies based on a number of factors, including the material, manufacturer, and size of the post. In most cases, a single implant post will cost between $500 and $3,000. Our team can help you to plan for the out of pocket costs of implant supported tooth replacement.
Will My Implant Supported Tooth Replacement Last Forever?
Implant supported replacement teeth have a high success rate after two decades, and many patients are able to maintain their flawlessly repaired smile for the rest of their lives.
Can Dental Implants Fail?
Many patients hear horror stories about dental implant failure. While this is a possibility, it's extremely rare. With detailed planning prior to placement and appropriate oral health care after implantation, a dental implant supported replacement tooth or teeth has a 90 to 95% success rate after 20 years. This is compared to traditional tooth replacement options that need to be replaced every five to ten years.