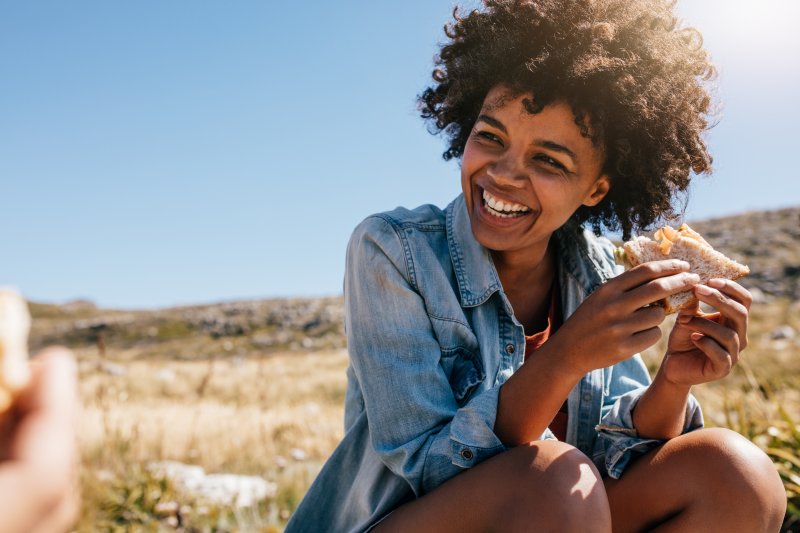 Summer is officially upon us! From pool parties and picnics to beach vacations and cross-country road trips – most people have something to look forward to during the warmer months. Unfortunately, all the excitement can put your smile at risk. Read along for eight summer oral health tips to protect your teeth during the sunny season.
Stick to Your Oral Hygiene Routine
Now that you're taking a break from the daily grind, it's normal for your routine to falter a bit. However, you must make time in your hectic summer schedule for your oral hygiene regimen. Brushing your teeth twice a day and flossing once a day is the best line of defense against dental problems!
Stay Hydrated
Water is truly the best drink for your oral and bodily health. It helps keep your body refreshed and hydrated under the hot summer sun. Plus, drinking water washes away plaque-causing bacteria and sugars, which can prevent bad breath.
Limit Sweet Drinks
While lounging by the pool, it's tempting to reach for a lemonade, soda, sweet tea, or sports drink to cool down. But these beverages contain unhealthy amounts of sugar, which can lead to tooth decay and enamel erosion. Try to limit your consumption and reach for water instead.
Use a Straw
Even though sweet drinks can have harmful effects on your oral health, you don't have to give them up completely! Like most things, they're okay to consume in moderation. If you decide to indulge, make sure you use a straw to reduce contact with your teeth.
Pack Healthy Snacks
While preparing your travel bag, make sure you pack plenty of nutritious snacks that are easy to grab while on the go. Foods like carrots, apples, celery, strawberries, nuts, and plain yogurt are healthy choices for your teeth and body.
Avoid Eating Ice
Some people chew ice because it's satisfying, while others may do it merely out of habit. Either way, eating ice can have detrimental effects on your oral health. It can damage your teeth, enamel, and gums. If you find it impossible to drop the habit, try eating finely shaven, semi-melted pieces of ice instead – it's gentler on the teeth while satisfying the craving.
Wear a Mouthguard
During summer, more people spend time outdoors participating in various recreational activities. Unfortunately, that means dental injuries are more likely to occur. Common mouth injuries include chipped, cracked, or lost teeth, fractured roots, and cut lips. If you're going to participate in full-contact sports, make sure you wear a properly fitted mouthguard to prevent accidents.
Protect Your Lips
Everyone knows to wear plenty of sunscreen and stay hydrated during the sunny season, but people often forget to protect their lips as well. Since the skin on the lips is thinner and contains less melanin, it's just as vulnerable to sun damage as other parts of the body. Protect your mouth by wearing a lip sunscreen with an SPF rating of 30+ and reapplying frequently.
Summer vacation is an exciting time, but don't forget to prioritize your teeth amidst the fun. Now that you know a few oral health tips, you can get the most out of your days off while keeping your smile safe.
About the Practice
Our mission at Painted Skies Dental Center is to provide high-quality, comfortable, and personalized services to every patient that walks through our door. One of our goals is to educate patients on preventive care, helping them appreciate the value and importance of a long-lasting, healthy mouth. By following these summer tips, you can maintain good oral health all season long while still having fun. For more information, visit our website or call (575) 521-8720.