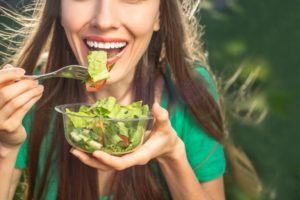 The old saying, "Let your food be your medicine, and your medicine be your food," is attributed to the Greek physician and father of Western medicine, Hippocrates. This statement applies to your total wellness, which includes your teeth and gums. Yes, there are certain foods that benefit your oral health. Continue reading to learn about them so you can prevent any unwanted dental issues!
The Nutrients Found in Oral Health-Friendly Foods
Here are three important nutrients that can have a positive impact on your oral health:
Calcium – Promoting strong teeth and bones, the mineral can be found in milk, yogurt, cheese, canned salmon, almonds and dark leafy vegetables.
Phosphorous – An excellent building block in the growth of bone cells, phosphorous can be found in eggs, fish, lean meat, dairy, nuts and beans.
Vitamin C – Citrus fruits like lemons, oranges and tomatoes, and vegetable choices like peppers, broccoli, potatoes and spinach are excellent sources of vitamin C. While promoting gum health, it also aids in the prevention of oral cancer.
Eating Healthier Takes Proper Planning
Maintaining a healthier diet doesn't require a feat of amazement. It just takes a little planning. If you're like most people, you lead a busy life, which makes it all the more important to have a structured eating program. Before your day gets underway, set aside all your snacks and meals so that you won't be subject to eating unhealthy foods throughout the day.
While you may have to stay up a little later one night or get up earlier to prepare your food, the benefits are well worth the extra effort. You may even consider dedicating a day to prepping, cooking and packing all your meals for the week. In addition to enhancing your total wellness, this can save you a ton of money.
Dental Hygiene is Important
In addition to maintaining a healthy diet, you'll still need to practice good dental hygiene. This should include brushing and flossing your teeth at least two times a day to remove leftover debris and plaque from your teeth and gums.
You should also make it a priority to visit your dentist in Las Cruces every six months for cleanings and checkups. Therefore, you can know for sure that your teeth and gums are in the best condition possible. Through healthier eating and consistent dental care, you can look forward to maintaining a beautiful and functional smile, while fortifying your total wellness for years to come!
About the Author
Dr. Natalie Ortiz earned her dental degree from the Creighton University School of Dentistry. Since graduating and entering the dental field, she has remained an avid learner, completing several hours of continuing education, which includes training at the renowned Spear Education. Additionally, Dr. Ortiz maintains professional affiliation with the New Mexico Dental Association, which helps her stay abreast of the latest changes in the dental world. She helps patients experience the peace-of-mind of having excellent oral health at Painted Skies Dental Center, and she can be reached for more information or to schedule a visit through her website.