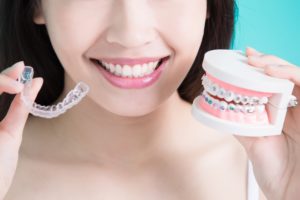 If you missed your chance for braces as a child or you've suffered orthodontic regression, you're never too old to invest in a straight smile. 1 in 5 orthodontic patients is over the age of 18, which is attributed to a wider variety of treatment options. Although braces are still a common solution, many adults prefer Invisalign, but which is best? Here are the facts you need about Invisalign vs. braces to make the best choice for your smile.
What are Metal Braces?
Metal braces are a tried-and-proven method to resolve even the most complex bite and alignment concerns. Brackets are attached to your teeth to hold an archwire. Adjustments are made to the wire every few weeks to gradually pull your teeth into their ideal positions. On average, treatment takes about 18 to 24 months, but every case differs.
Benefits of Metal Braces
Many adults choose metal braces because they are cost-effective and several improvements have been made to make them less noticeable, like tooth-colored brackets. Overall, they offer a variety of advantages, including:
Resolve simple and complex bite and alignment issues.
Options to make them less visible.
Covered by many dental insurance policies.
Lasting results with the right aftercare.
What is Invisalign?
Invisalign is a unique orthodontic system because it doesn't use brackets or wires. Instead, your dentist creates a series of clear plastic aligners to reposition your teeth. You'll wear them for at least 22 hours each day and switch to a new aligner in the series weekly. Since there aren't any wires, you won't need appointments for adjustments, only periodical check-ins. Most patients are finished with their series in about 12 months. Although Invisalign is effective for correcting several issues, there are some limitations. You'll need a consultation with your dentist to ensure it's the right option for you.
Benefits of Invisalign
When compared to traditional braces, Invisalign offers multiple advantages that aren't possible with brackets and wires, such as:
Nearly invisible for a discreet treatment.
Removable to make oral hygiene easy.
No dietary restrictions.
Less time in the dental chair.
Lasting results with the proper aftercare.
Covered by many dental insurance plans.
Which is the Best Treatment for Me?
Both treatments have their pros and cons, which can make it difficult to choose between the two. Thankfully, you don't have to make the decision alone. Your dentist will work with you to create a personalized plan to reach your goals.
They'll perform an examination to determine if you're a candidate for 1 or both treatments. After learning more about your preferences and lifestyle, they'll help you choose the ideal option, so you can feel confident about the road ahead. Take your first step toward a straight smile by scheduling your orthodontic consultation.
About Dr. Natalie Ortiz
Dr. Ortiz has over 20 years of experience in dentistry. She strives to improve her patients' lives through exceptional dental care. With special training in many advanced services, like Invisalign, CEREC, and iTero, she can create the healthy, beautiful smile you deserve. Contact our office today to schedule your consultation.