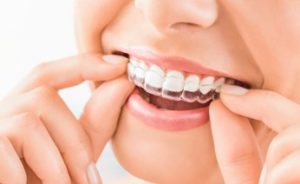 You've finally decided to straighten your smile, now you just need to decide what method you want to use. Traditional braces have been around for quite some time, so there are very few uncertainties when it comes to this orthodontic treatment. But while clear aligners like Invisalign have continued to grow in popularity for many reasons, they are still fairly new to dentistry. Keep reading to find answers to the top 5 most frequently asked Invisalign questions.
How Often Should I Wear My Aligners?
One of the best aspects of Invisalign is that the tray can be taken out. But in order to get the most out of your Invisalign treatment, it is important to wear your aligners as much as possible. You should aim to wear them a minimum of 22 hours of each day, only taking them out to brush your teeth, eat or drink.
How Long Will It Take to Straighten My Teeth?
With traditional braces, the typical treatment can fall between 16 and 24 months. Invisalign offers a much shorter timeframe of 12 to 18 months. The amount of time for both braces and clear aligners also depends on your participation as well. Damage to your aligners or not wearing them enough can cause setbacks and extend your treatment. For braces, factors that prolong your treatment include broken wires, ill-fitting brackets and poor oral hygiene.
Will My Dental Care Routine Change?
Generally, you can get away with a quick dental routine. One study found that the average American typically only brushes their teeth for 45 to 70 seconds per day! But when wearing Invisalign, it's important to make time to brush and floss your teeth every time you eat and make sure your aligners are always clean and clear of food particles. Otherwise, you could put yourself at risk for cavities or a dental infection.
What Happens if My Teeth Don't Move as Planned?
No matter whether you wear traditional braces or clear aligners, it is possible that your teeth to not shift according to plan. With Invisalign, your dentist may attach buttons to help move things along. These attachments are made of a tooth-colored composite resin material that act as anchors for interarch bands that are used to encourage your teeth to shift.
Will I Need a Retainer?
Yes. Invisalign can straighten your teeth faster than traditional braces, but your treatment isn't finished when you stop wearing your aligners. In order to keep your teeth in their new position, your dentist will provide you with a retainer for you to wear every night. This will help keep your teeth from shifting and ruining your hard work.
Having an overbite, underbite or crowded teeth can make anyone second-guess smiling, laughing and even speaking. Making the decision to get Invisalign in Las Cruces might be the best choice you could make for your smile. Still not sure? Your dentist can help you decide which orthodontic treatment is best for you.
About the Practice
At Painted Skies Dental, Drs. Ramon Ortiz and Natalie Ortiz are committed to ensuring every patient receives the highest quality of dentistry in a comfortable environment. Dr. Ramon is the Patterson Dental CEREC trainer for dentists throughout the Southern New Mexico and El Paso area. After completing dental school, Dr. Natalie has attended multiple prestigious continuing education courses that have allowed her to master CEREC dentistry and become certified in Invisalign. If you're ready to transform your smile, visit the website or contact the office at (575) 521-8720 to schedule an appointment.