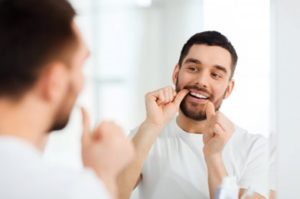 Sticking to your New Year's resolutions can be tough. Many people make a list of goals with no plan in place to help them achieve it. But if your goal is to floss more, your dentist in Las Cruces can help! Flossing helps remove any leftover food particles, plaque and bacteria that gets wedged between your teeth. Here are 3 ways to help you floss more in 2021 and improve your oral health.
Be Practical with Your Approach
Trying to suddenly force yourself into a habit of flossing every day could set you up for failure. If you've never been a regular flosser, you could end up forgetting or you might just decide to forego it altogether before you really get started. Setting a gradual realistic goal to change your dental routine is a great way to make a new step become a habit. For example, try beginning with a goal to floss every Monday and Wednesday for one month. The next month, add Fridays to the routine. Each month, add another day until your flossing every day. Once you reach that goal, try keeping this habit up every month until your next dental checkup. This time next year, you'll be guaranteed to see a difference!
Make Flossing Fun
Flossing doesn't have to be boring. Many people truly love the classic, minty dental floss they've always used. But adding another flavor like strawberry or cupcake-flavored floss can make this step a little less boring! If fruity or sweet flavors aren't really your preference, you can also find coconut oil-infused floss. Another fun flossing option are water flossers! They're especially great for those who suffer from arthritis and other conditions that make holding and controlling string floss too challenging.
Know Your Enemy
Plaque is a clear substance, so it can be hard to see. Toothpaste and mouthwash that makes it visible gives you the ability to attack any hidden or hard-to-reach buildup on or between your teeth. Using these tools can even become a fun game with the family. You brush and floss before bed and whoever has the least amount of plaque on their teeth wins!
Taking proper care of your teeth means brushing for 2 minutes at least twice day and flossing at least once. These tips can help you achieve your New Year's resolution to floss more often and minimize your risk of developing dental issues like cavities or gum disease.
About the Practice
At Painted Skies Dental Center, Drs. Ramon Ortiz and Natalie Ortiz are dedicated to providing each and every patient with top-quality dentistry. Dr. Ray has spent a considerable amount of time continuing his education after dental school in order to provide his patients with the latest technology and techniques in dental treatment. Dr. Natalie received her doctorate from Creighton University School of Dentistry and continued her education to master CEREC dentistry and become certified in Invisalign. If you're ready to get your best smile, contact the office at (575) 521-8720 or visit the website to schedule a visit today!