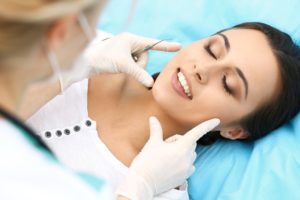 Are you unhappy with the appearance of your teeth? You're not alone. In fact, studies show as much as one-third of adults don't like their teeth either. Thankfully, you don't need to live with the imperfections. Cosmetic dentistry in Las Cruces can give you the picture-perfect smile you deserve. Not sure if it's right for you? Here's what you need to know to determine if you're a candidate for cosmetic dentistry.
What issues can cosmetic dentistry fix?
Cosmetic dentistry is more diverse than ever. Besides correcting aesthetic issues, many elective procedures also offer restorative benefits as well. As a result, cosmetic treatments can be used to resolve several concerns, such as:
Dark tooth discoloration
Tooth decay
Exposed tooth roots
Chips, cracks, or abnormally shaped teeth
Shorter than average teeth
Alignment concerns
Gaps between teeth
Which cosmetic treatments are right for me?
You'll need a thorough consultation with your cosmetic dentist to create a personalized treatment plan. They'll evaluate your aesthetic needs and discuss the results you'd like to achieve. Depending on your goals, you might be a candidate for one or more procedures, such as:
Porcelain Veneers: A thin shell is bonded over the front surface of a tooth to instantly improve its color, size, and shape. It can be used to correct several concerns using just one treatment, like discoloration, chips, or gaps between the front teeth.
Invisalign: Correct alignment and bite problems without brackets and wires. Clear aligners are worn over the teeth to gradually move them into their ideal positions. In as few as 12 months, you can have a straight smile.
Zoom! Teeth Whitening: Turn back the clock and get your teeth as much as 8 shades brighter with a professional whitening treatment. The agent deeply penetrates your enamel to resolve stubborn stains in about 1 hour.
At-Home Teeth Whitening: You can get your teeth brighter from the comfort of your own home using a kit from your dentist. It contains everything you need to reverse tooth discoloration. You'll achieve professional results in about 2 weeks.
Tooth-Colored Fillings: Treat tooth decay without a dark, metal filling. Instead, you can enjoy a metal-free solution that will blend in with your enamel. A composite resin material will treat the cavity while looking natural, so you can smile confidently.
Direct Tooth Bonding: Fix minor aesthetic concerns using a tooth-colored material. It's a noninvasive option to treat chips, cracks, and exposed tooth roots. You can enjoy drastic results after just one appointment.
Transform Your Confidence
If you're not in love with your smile, your cosmetic dentist can help. Give your confidence a boost by achieving your dream smile.
About Dr. Ramon M. Ortiz
Dr. Ray has completed advanced training in many specialties, like CEREC technology. He creates high-quality, durable restorations that look and feel natural. Besides offering services from his office, he is also a mentor at the Scottsdale Center for Dentistry. If you're looking for a qualified dentist to enhance your smile, he can help. Contact our office today to schedule your consultation.