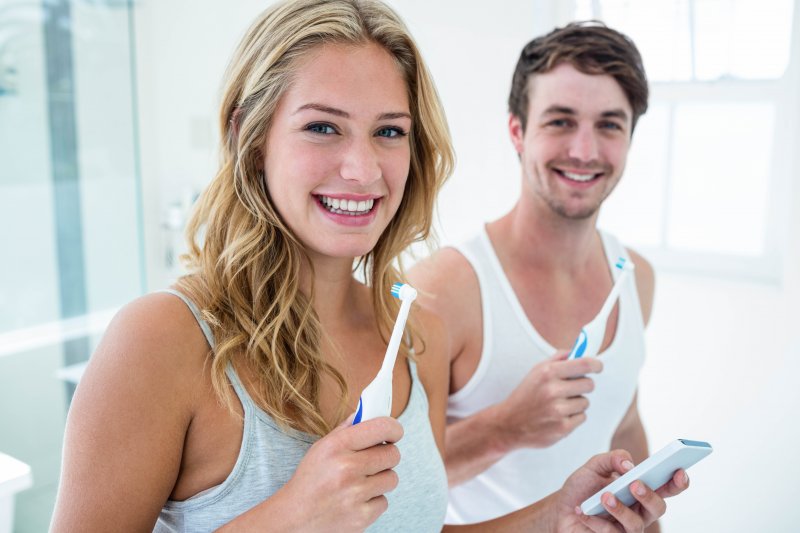 During the season of candy-filled holidays and delicious fall treats, there is no time like the present to prioritize your oral health. Fortunately, October is National Dental Hygiene Month! So, if your brushing and flossing routine has become inconsistent or a few too many Pumpkin Spice Lattes are starting to impact your teeth and gums, it's time to implement the below oral hygiene tips from a dentist in Las Cruces.
#1. Don't Go to Bed Without Brushing Your Teeth
When the temperature drops and the days get shorter, it can be oh-so-tempting to hop straight into bed to read your favorite book or watch a new TV show until you fall asleep. However, failing to complete your oral hygiene routine before you doze off can wreak havoc on your oral health. After all, if the food particles and debris on your teeth can begin to erode your enamel after 20 minutes, imagine what they can do during the 7+ hours you sleep! To keep your teeth and gums in tip-top shape, make sure to always brush your teeth before getting under the covers.
#2. Always Clean Your Tongue
All too often, patients focus their dental care around their teeth and gums and completely neglect their tongue. Unfortunately, doing so allows the bacteria in your mouth to form a white, filmy layer along the surface that can lead to an unpleasant odor on your breath. The good news is that you can prevent this from occurring by cleaning it regularly with your toothbrush or a tongue scraper!
#3. Remember, Flossing Is as Important as Brushing!
Did you know that over 30% of U.S. adults never floss? Plus, an additional 37% don't floss daily. Yikes! These statistics are especially staggering since cavities between teeth are one of the leading dental concerns facing Americans today. So, whether you prefer traditional floss, a floss pick, or a water flosser, make sure to thoroughly clean between your teeth before wrapping up your oral care routine.
#4. Visit Your Dentist Bi-Yearly
When it comes to the health of your teeth and gums, no one is a greater ally than your dentist! In addition to treating gum disease and decay in the early stages, the tools they use during your professional cleaning are the only instruments that can remove stubborn plaque and tartar. Plus, they can answer any questions you have about your oral health, recommend treatments to improve your smile, and suggest products that can make your dental care regimen seamless.
Since it's National Dental Hygiene Month, there is no time like the present to prioritize the care of your teeth and gums. Get started today by implementing the above best practices!
About the Practice
At Painted Skies Dental Center, patients don't have to choose between a comprehensive array of services, high-quality dentistry, and world-class customer service – they can get it all at their office in Las Cruces! Whether you need a routine cleaning or restorative treatment, Dr. Ramon Ortiz and Dr. Natalie Ortiz will use their expertise to ensure your smile is as healthy as can be. If you are overdue for your six-month checkup or your teeth simply need some TLC, visit their website or give them a call at 575-521-8720.