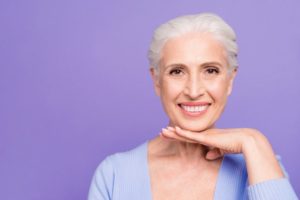 Do you have missing teeth? Are you tired of wearing dentures? Regain your complete, confident smile with dental implants in Las Cruces! Over 3 million people have rebuilt their full set of pearly whites with this modern tooth replacement option, and 500,000 more are placed every year. Dental implants boast numerous benefits that are quickly making them more popular than traditional treatments like dentures and fixed dental bridges. Read on as your Las Cruces dentist explains what makes them so popular!
Unmatched Comfort
Many people complain about how their dentures feel as they lose their close fit over time. Ill-fitting dentures can cause gum irritation and jaw soreness, feel loose while talking or eating, or pop out of place in the midst of daily life. Dental implants on the other hand mimic the comfort and stability of natural teeth by fusing with your jawbone. This solid foundation means you'll never feel it wobble or slip—in fact, you may forget it's there entirely!
Regain Powerful Biting Force
Dental implants can easily withstand chewing hard, chewy, or crunchy foods that would be a challenge for other tooth replacement options. Their solid foundation in the jawbone can restore 80% or more of your biting force, allowing you to continue to enjoy steak, apples, corn on the cob, taffy, and anything else on your plate.
Enjoy Your New Smile for a Lifetime
Dentures and fixed dental bridges can replace missing teeth quickly, but they aren't designed to last. Every five to 15 years, they'll need to be repaired or replaced. Not only is this inconvenient, but it can become quite costly over time. A dental implant may take more initial time to get than these traditional options, but once it's in place, you can expect it to stay there for decades. With the proper care, your dental implant can easily stay beautiful and functional for the rest of your life.
No Special Care Required
You'll be able to take care of your new dental implant just as easily as you care for the rest of your smile. You won't need to change your dental routine or buy any specialized products—great at-home oral hygiene is all that's needed to protect it and keep it in place. Simply brush for two minutes twice a day, floss between your teeth daily, and rinse with an antiseptic mouthwash regularly to keep your dental implant clean and healthy.
Promote a Healthier Smile & Body
When it comes to replacing missing teeth, dental implants are the healthiest option for your smile and overall wellbeing because they:
Don't alter or rely on surrounding teeth for support.
Don't put extra pressure on the gums or jaw joints.
Stimulate blood flow in the jawbone, which prevents deterioration.
Promote better oral health, which reduces your risk of issues like cavities, gum disease, and oral infections.
Reduce the likelihood of systemic health conditions that are associated with poor oral health, like respiratory infections and heart disease.
Dental implants are quickly becoming one of the most popular ways to replace missing teeth, and it's easy to see why! Call your Las Cruces dentist today to see if this one-of-a-kind treatment is right for you!
About the Practice
At Painted Skies Dental Center, we're proud to care for the smiles of Las Cruces, NM and the surrounding communities with the high-quality dentistry they deserve. We use the latest dental technology and techniques to provide modern, comfortable, and long-lasting treatments like dental implants. Whether you're missing one, several, or all of your teeth, we can help you regain your confidence and your smile with this advanced tooth replacement option. To see if they're right for you, feel free to contact us via our website or at (575) 521-8720.