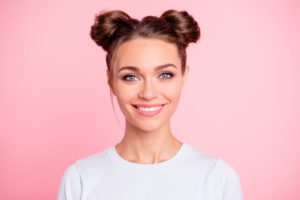 Starting around age thirty or so, everyone longs to look younger than they really are. Since we can't physically stop the process of aging, we're left with pursuing cosmetic solutions such as Botox, makeup, or even plastic surgery to take years off our appearances. One of these aesthetic treatments we often seek is teeth whitening. In fact, according to recent studies, people with white teeth are perceived as younger than people with stained teeth. Why is that? Keep reading as a dentist in Las Cruces explains.
What Does the Research Say?
Oral B recently conducted a study in which the participants were shown two pictures of a model. The model had white teeth in one photo, and yellow teeth in the other. When asked to estimate the model's age, participants thought she looked an average of 13 years older with yellow teeth.
Another study conducted by Dr. Dacher Keltner of UC Berkeley revealed that your smile is visible from up to 200 feet away. It's also the focus of what people see when they look at you. As such, people with healthy-looking white smiles are thought to be more attractive and successful in life.
Based on studies like these, it's no wonder that teeth whitening products have exploded in popularity in the last few years, including the ones your dentist offers.
How Your Dentist Can Help You Look Younger
Many dentists offer both in-office and take-home whitening treatments. In-office whitening is best for patients who are on a time crunch or want more dramatic results. During this hour-long procedure, your dentist paints a bleaching gel onto your teeth that is much more potent than any product you can find in stores. The gel is activated under a special light and when it's wiped off, off come the stains too.
Take-home whitening kits give you more gradual results. You'll wear trays that are custom-made to fit your teeth, along with a powerful bleaching gel, for 20-30 minutes a night. You should see the results you want after a week or two.
Benefits of Professional Whitening Over Store-Bought Whitening
While over-the-counter teeth whitening products are cheaper, they simply don't deliver the results you'd get from a dental office. Due to FDA regulations, they can't contain enough of the bleaching ingredients required to ensure drastic, lasting results.
Additionally, professional whitening is much safer. Whether you choose in-office or take-home teeth whitening, your dentist will make sure your lips, gums, tongue, and cheeks are protected from the gel, preventing irritation that often comes with store-bought products. Professional treatment is also much less likely to cause painful sensitivity.
While we may not have discovered the fountain of youth yet, getting your teeth whitened can at least make you appear a few years younger. Ask your dentist how they can help you achieve the bright, youthful smile you deserve.
About the Practice
Our dentists at Painted Skies Dental Center, husband-and-wife Drs. Ramon and Natalie Ortiz, have helped countless patients in the Las Cruces, NM community brighten their smiles. They offer both in-office and take-home whitening treatments to knock several years off your appearance. To learn more about which option would be best for you, visit their website.