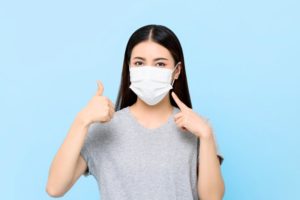 After quarantining at home for the past several months due to COVID-19, going out for something as simple as a dental checkup can feel incredible. When you arrive at the office of your dentist in Las Cruces, you might be tempted to show your excitement at seeing another human being in person by giving the members of your dental team a hug or a handshake. However, you should resist the temptation to use these greetings. Dental practices take the health and safety of their patients very seriously. As a result, they are implementing strict social distancing guidelines in their offices, which includes no physical contact. Fortunately, there are other ways you can say hello and goodbye to your dentist and their team while still keeping your distance. Keep reading to learn about a few of them.
Flashing a Peace Sign
Thanks to the pandemic, this classic gesture is actually making a comeback. By sticking up two fingers, you can easily let your dental team know that you're happy to see them.
Nodding
For people who would describe themselves as the strong, silent type, a firm nod is all that's needed to convey a hello.
Waving
A wave might feel slightly awkward these days, but you can't go wrong with this timeless method of greeting someone.
Bowing
Although this greeting, common in Japan, is a bit more formal, it still allows you to convey respect and gratitude toward your dental team for all that they do.
Smiling
Typically, when you enter your dentist's office, you'll be asked to take off your mask. This will expose your face, letting you simply smile at the team members to show you appreciate them.
Firing Your Finger Guns
Are you ready to playfully let everyone in the office know how you feel about cavities? Then take out your finger guns when you enter the building.
Curtsying
This old-Hollywood way of expressing gratitude will be sure to appeal to the older members of your dentist's team.
Showing Off Your Jazz Hands
Has the chance to talk to other humans got you all energized? If so, put that energy to good use by demonstrating your jazz hands.
Coming Up with Your Own Greeting
If you're a creative soul, don't be afraid to make your own way of saying hello and goodbye to your dental team. Just be sure that whatever it is, you can do it without making physical contact.
Everyone who works in your dentist's office has a genuine passion for improving people's oral health. With these no-touch greetings, you can express your appreciation and gratitude for them during these challenging times.
About the Practice
At Painted Skies Dental Center, our husband-and-wife team of dentists, Drs. Natalie and Ramon Ortiz, are dedicated to making their practice as safe for their Las Cruces, NM patients as possible. They follow all of the health and safety guidelines created by the ADA, the CDC, and OSHA. They really enjoy saying hello to their patients, even while social distancing. If you're in need of a dental checkup from a dental team who cares, visit their website.