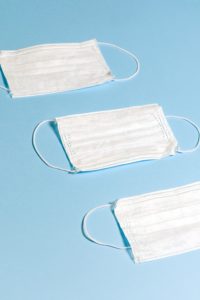 Dental offices are already some of the cleanest places, but it's normal to be concerned about your safety amid the COVID-19 pandemic. You have nothing to fear. Your dentist in Las Cruces understands your concerns. Your safety is their top priority, which is why they've revamped their protocols to help keep you healthy. Even before you arrive for your appointment, your dentist is preparing the office for you. Here are 5 ways your dentist in prepping for your visit.
1. Safety Champion
Each member of your dental team has undergone advanced training in preparedness and awareness in the latest safety precautions to prevent the spread of coronavirus. Each day, your dentist will select a "Safety Champion," who is responsible for interacting with patients and ensuring a clean environment. With a new Safety Champion assigned daily, you can rest assured knowing nothing is overlooked and everyone on your dental team has the proper training to help you stay well.
2. Daily Health Checks of Staff
Your dental team will have no-contact temperature checks each day before beginning their shift. They will also perform health assessments on one another to ensure everyone is well and ready to provide you with the exceptional care you deserve.
3. Change Work Clothes at Work
Research shows the clothing of healthcare professionals, including those in the dental field, can transmit harmful pathogens. As a result, you won't see your dental team wearing their scrubs outside of the office anymore. Instead, they will change their work clothes at work to reduce the risk of cross-contamination. They will also use disposable clothing when necessary.
4. Personal Protective Equipment
Personal protective equipment, like masks and gloves, provide a barrier between yourself and your dental team when you can't maintain your distance from one another. Although masks and gloves are always worn, your dental team is taking it a step further. You might also see them wear face shields and other forms of protection to reduce any potential for COVID-19 exposure.
5. Enhanced Cleaning Standards
Your dental team is taking more time to clean the office. This involves more than just spraying a disinfectant. They are following the ADA's, CDC's, and OSHA's guidelines for cleaning and disinfecting equipment, instruments, and surfaces. Your dentist is seeing fewer patients each day, allowing for more time to clean in between each. You can feel confident knowing the office is clean before entering it.
Enjoy a Safe Dental Visit
Your dentist is going the extra mile to ensure the office is clean to help prevent the spread of coronavirus. Although things might seem a bit different, they are necessary changes to help you invest in a healthy smile without worrying about illnesses.
About Painted Skies Dental Center
Painted Skies Dental Center is committed to providing the highest quality of dentistry using a modern approach. Dr. Ramon and Natalie Ortiz have changed their safety protocols to help curve the coronavirus pandemic. If you have any questions about our safety standards, or you're ready to schedule an appointment, contact our office today to speak with a member of our team.