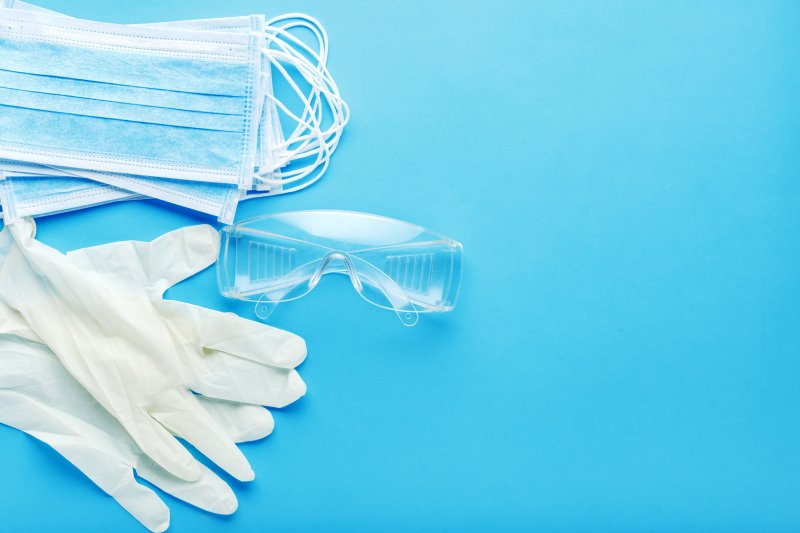 Many people are concerned about their health and safety during the COVID-19 pandemic, and rightly so. Even if you're social distancing, quarantining, and wearing a mask when you go out, life goes on and you may have sudden dental needs. Dental offices, even during normal times, hold themselves to extremely high sanitation and safety standards. Due to the pandemic, dentists are now being even more strict and utilizing tools and procedures to ensure that you get the care you need with no risk involved. Read on to learn about four types of additional personal protective equipment (PPE) that your Las Cruces dentist is using in their practice.
1.) Face Shields
Dentists and their hygienists always wear N95 masks while providing your dental care. However, during the pandemic, that is not enough. Your dentist will wear a face shield in addition to a mask. This will help to protect from and limit the amount of airborne materials during a procedure.
2.) N95 Respirators
Not to be confused with N95 masks, N95 respirators offer a higher level of protection. They have been evaluated and approved by NIOSH (National Institute for Occupational Safety and Health), filter out at least 95% of airborne particles, and have less leakage than masks.
3.) Protective Gowns
Much like you'd see in a surgical suite in a hospital, dentists are wearing protective gowns and hats to prevent any sort of microorganisms from them to you, and vice versa. These items are disposable and new ones are worn for every single procedure.
4.) Surgical Caps
For an added layer of protection, the dentist will also wear surgical caps to prevent even a single stray hair from reaching you. Essentially your dentist will be covered and sterilized from head to toe, keeping you as safe as possible.
Combined with other advanced safety measures around the office and intensely thorough cleaning standards, these four additional layers of PPE will ensure that you leave your appointment even healthier than when you came in. Give your dentist a call if you'd like to learn more about their advanced approach to patient protection.
About the Author
Dr. Ramon M. Ortiz is committed to providing the highest standard of patient care. He takes great pride in providing exceptional dentistry in an inviting, safe environment. Ever since graduating from dental school, he has made it his mission to continue learning and growing in his practice. He is the Patterson Dental CEREC trainer in the Southern New Mexico and El Paso region. Dr. Ortiz is also a mentor at the Scottsdale Center for Dentistry, where he instructs other dentists on the use of dental technology. If you'd like to know more about how he and the skilled team at Painted Skies Dental Center are taking measures to ensure a safe visit, they would love to speak with you. You can call the office at (575) 233-6648 or send them an email.