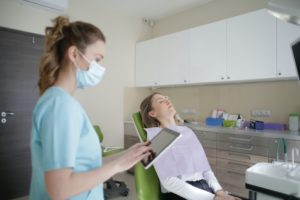 Over the last several weeks, there have been many changes to the way we live as we try to stop the spread of COVID-19. While you practice social distancing and wear a protective mask, it's also important to focus on cleanliness. Your dentist in Las Cruces isn't an exception. Although dental offices are already some of the cleanest places, practices around the country have revamped their cleaning routines to stay germ-free. This involves more than just disinfecting surfaces and washing their hands. Here are a few ways your dentist is keeping their office clean.
1. Changing Patient Scheduling
Social distancing is equally as essential as hand washing when preventing the spread of coronavirus. As a result, your dentist is seeing fewer people each day to allow more time between each patient. This reduces contact between patients to minimize exposure to the virus. A virtual check-in system also makes it easier to maintain your distance.
It also gives the dental team more time to clean to ensure you walk into a sterile environment. All clinical areas, instruments, and equipment will be disinfected after every patient to prevent cross contamination.
2. Cleaning and Disinfecting
Non-disposable equipment will be cleaned and disinfected after every appointment, as well as all patient care areas. The dental team will use EPA-registered and hospital-grade disinfectants to clean frequently touched surfaces or objects.
All laundry and linens will also be thoroughly cleaned in accordance with the latest protocols. Dental staff will change their scrubs at work each day. This prevents any pathogens from entering or exiting the office.
3. Health Checks
Staff and patients will undergo a short health check to ensure no one entering the office has a fever or is showing any signs of illness. This is key to keeping the office clean and germ-free. Patients are asked a brief questionnaire before entering the office. Although it might take a couple of extra minutes, it's critical for preventing contamination of the office.
4. Anti-Microbial Mouthrinse
Your dentist is doing more than just keeping the office clean. They are also keeping your mouth clean. You will be asked to use an Oracare solution for 60 seconds to kill germs in your mouth. This helps keep your dental team safe while performing the services you need.
5. No Patient Gloves
Gloves are a protective barrier between pathogens and your skin; however, they also harbor germs. Your dentist will ask you to remove your gloves before entering the office to lessen the risk of contaminating a surface.
Choose a Higher Standard of Clean
Your dentist strives to ensure your safety while in their office. Rest assured, their sanitation protocols will help prevent the spread of coronavirus, so you have one less thing to worry about.
About Painted Skies Dental Center
Painted Skies Dental Center provides high-quality dentistry with your well-being in mind. Our dental team has implemented new standards to enhance the cleanliness of the office. If you have any questions about our sanitation protocols, contact our office today to speak with a member of our team.