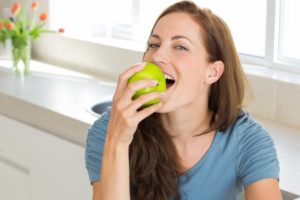 When you think about oral healthcare, you may picture yourself in your bathroom brushing and flossing your teeth. Of course, this is an integral part of maintaining a healthy smile, however there are other steps you can take to achieve amazing oral health. When it comes to the wellbeing of your smile, what you snack on matters. That's why your dentist in Las Cruces has included some easy snacking tips like what to eat and what not to eat for a great set of teeth.
What's Wrong with Sugary Snacks?
It's a simple fact that the snack of choice for many people contains high levels of sugar. Whether it's cookies, cake, candy, soda, or other sugary foods, these snacks can dramatically increase your risk of tooth decay and cavities. Sugar interacts with the bacteria in your mouth to create acids which eat away at your smile's protective enamel. Additionally, fatty and starchy foods like potato chips, crackers, and more will break down into sugars, affecting the health of your teeth in the same way. Of course, these snacks taste great, but thankfully, there are some healthy alternatives you can incorporate into your diet to keep your smile in shape.
How to Snack Smarter
Before picking out snacks at the store, think to yourself whether or not that food will be good for your smile. Extra gooey or sticky items tend to remain on your teeth for longer periods of time, putting you at higher risk of decay. You should also be aware of when you're snacking. Eating throughout the day without giving your mouth a break doesn't allow your saliva to naturally wash away bacteria and food debris, causing a higher chance of decay. You should also watch out for late night snacking because you may fall asleep without brushing and flossing your teeth first.
Teeth-Healthy Treats
Instead of chips, cookies, and soda, you can turn to fruits and veggies. Items like apples naturally scrub away plaque and bacteria from your teeth, and they promote saliva flow to remove acids in your mouth. You should also drink water instead of soda. Most tap water contains fluoride, which is a naturally occurring mineral that fights cavities and repairs slight decay. Substituting water instead of sugary liquids that coat your smile can lower your risk of cavities dramatically. If you are going to indulge in some sweets, choose chocolate because it washes away from your smile easier than treats like caramel, taffy, toffee, lollipops, and other sticky, chewy, or hard candies.
We all need a snack from time to time, but by choosing wisely, we can save ourselves headaches down the road!
About the Practice
Drs. Ray and Natalie Ortiz are a husband and wife team of dentists who understand that healthy smiles start with a good diet. However, they also offer all of the services you need should cavities or decay affect your teeth. For any questions, they can be reached through their website or by phone at (575) 521-8720.