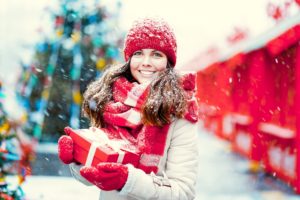 The holidays are a great time of the year. Besides the festive lights and thoughtful gifts, who doesn't love the sweet treats that go along with the season? You'll be tempted by candies, cakes, and other goodies that can damage your smile, but you don't need to let the holidays lead to bad news next time you see your dentist in Las Cruces. Here are 5 simple tips to maintain a healthy smile.
Protect Your Smile for the Holidays
The holidays wouldn't be the same without meals with family and friends. You'll be surrounded by a variety of foods that aren't just bad for your waistline. They may also be bad for your teeth. Don't worry, you can protect your smile without ruining your get-togethers:
Eat Treats with Your Meal
Traditionally, you would have your desserts after you've finished your main course, but did you know it's better for your teeth to eat treats with your meal? There will be extra saliva production while you're eating to help cleanse your teeth. This will wash away any harmful sugars that may linger in your teeth.
Nothing tastes better during the holidays than Egg Nog, but sugary beverages aren't the best option. Instead, choose water whenever possible. Not only will it keep you hydrated, but it also rinses harmful bacteria and plaque from your teeth in between brushing.
Snack on Crunchy Vegetables
Crunchy vegetables help scrub your teeth to remove cavity-causing bacteria when you can't get to your toothbrush. Instead of grabbing cookies at your next holiday party, choose carrots, celery, or broccoli to prevent plaque from building on your teeth.
Sugarless gum is a great way to keep your smile clean in between brushing and flossing. It increases your saliva production to cleanse your teeth.
Nothing will ruin a holiday gathering quicker than a dental emergency, like a lost crown or filling. You can help protect any dental work from damage by avoiding any foods that are overly hard or chewy, like taffy or hard candies.
Enjoy a Healthy Holiday Smile
Beside the foods and drinks you choose during the holidays, your oral hygiene routine is more important than ever. Commit to brushing your teeth at least twice a day and floss nightly. If you'll be traveling, consider creating an oral hygiene kit to take with you to make it easy to brush and floss while you're away from home. Don't forget to visit your dentist for a cleaning and checkup to start the new year with a healthy smile.
About Painted Skies Dental Center
Painted Skies Dental Center is committed to providing high-quality care. Our team of dentists creates personalized treatment plans to help each patient reach optimal oral health using a focus on prevention. We offer the routine care you need to keep your teeth and gums healthy. If you need an appointment before the holidays, don't wait. Contact our office today.