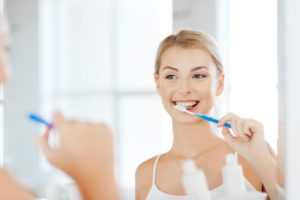 You might believe tooth decay is the only threat to your oral health, but there's another issue that could cost you your smile. Gum disease is the leading cause of tooth loss despite being preventable. The Centers for Disease Control and Prevention estimates at least half of adults over the age of 30 have an advanced form of the infection. Your smile doesn't need to become another victim of periodontal disease. Your dentist in Las Cruces has 3 simple tips to keep your gums healthy.
How to Prevent Gum Disease
Gum disease is an infection in the gingival tissue caused by harmful bacteria found in plaque and tartar accumulations. Although it may not seem concerning at first, the infection can destroy the supporting structures of your teeth, leading to tooth and bone loss. The complications don't stop there. The bacteria can also enter your bloodstream, increasing your risk of several health issues, like heart disease, Alzheimer's disease, and respiratory infections.
Simple changes can have a big impact on keeping complications at bay. Here are 3 easy ways to prevent gum disease:
Brush Twice a Day
You know you're supposed to brush your teeth twice a day; however, it's easy to forget about your smile after a long day. Although you may think brushing in the morning is enough, it allows bad bacteria to thrive in your mouth overnight, increasing your risk of gum disease.
It's best to use a soft-bristled toothbrush and nonabrasive toothpaste to clean all surfaces of your teeth for at least two minutes each session. Don't forget to gently brush your tongue.
If you're among the 60% of Americans who don't floss every day, you're opening the door to gum disease. Brushing can't reach everywhere in your mouth. In fact, it only cleans about 60% of your teeth's surfaces. If you don't floss, it allows plaque and tartar to accumulate.
It's best to use a high-quality dental floss that's earned the Seal of Acceptance by the American Dental Association. Clean in between each tooth every night before going to bed to remove anything left behind by your toothbrush.
The American Dental Association recommends you visit your dentist at least twice a year for a cleaning and checkup. Although you may not think you need an appointment until after a problem occurs, routine preventive care stops common issues from developing in the first place, like gum disease. This lowers your overall dental expenses because you'll have a decreased risk of needing an expensive treatment down the road.
Keep Your Gums Healthy!
Gum disease doesn't need to permanently change your smile. Don't wait to contact your dentist at the first sign of red or swollen gums.
About Painted Skies Dental Center
It's our mission to provide high-quality dental care in a comfortable atmosphere to help our patients achieve healthy smiles. We offer the personalized solutions you need to maintain your oral health. If you have gum disease, we can save your smile. Contact our office today for an appointment.