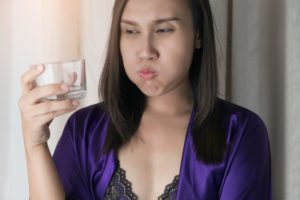 If you experience chronic dry mouth, it could be damaging your teeth. Whether you simply don't produce enough saliva, or you're taking certain medications that have a side effect of dry mouth, protecting your pearly whites from decay is vital. The severity of this issue can range from mild discomfort to causing significant permanent oral health problems. Read on to learn what a dentist in Las Cruces has to say about how you can combat this issue and improve your oral health.
What are the Symptoms of Dry Mouth?
The average healthy person produces anywhere from 0.5 to 1.5 liters of saliva each day. It's a mixture of water, electrolytes, and other organic compounds that regularly rinses your mouth of food debris and bacteria so they don't accumulate and wreak havoc on your oral health. If your body isn't producing the proper amount of saliva, it can impact your ability to chew and swallow foods as well as your digestion. Some symptoms that you're experiencing chronic dry mouth include:
Sticky or dry oral burning.
Having trouble chewing, speaking, tasting, and swallowing.
Altered tolerance for spicy, salty, or sour foods.
Cracked or peeling lips.
Oral infection or sores.
Hoarseness.
Chronic bad breath.
Poorly fitting restorations.
Dry and rough tongue.
If you notice any of these signs, be sure to visit your dentist in Las Cruces. They can offer recommendations and advice on how to combat the problem and keep your oral health in tip-top shape.
What are the Causes of Dry Mouth?
Dry mouth can be the result of a variety of factors. One of the most common reasons people experience this problem is because it's a side-effect of a medicine they're taking. Typically, antihistamines, decongestants, pain medications, diuretics, muscle relaxants, and antidepressants all cause severe dry mouth. If you notice excessive dryness, it's best to talk to your doctor about alternative medicines or changing your dosage. This could keep your mouth from accumulating harmful oral bacteria that produce toxins and acid that cause dental decay and gum disease.
How Can You Fix the Problem?
If your dry mouth is being caused by a medication or autoimmune disease that you have, contact your medical professional to work out a solution. Other than that, it's important to keep up with your oral hygiene to remove bacteria from your mouth and prevent severe enamel erosion. Some precautionary measures to keep dry mouth from causing oral health problems are:
Regularly sip on water throughout the day.
Suck on ice chips (don't bite them).
Chewing sugar-free gum.
Avoiding salty, spicy, and dry foods.
Avoid sticky and sugary foods.
Use a humidifier at night.
Avoid alcohol, tobacco products, and caffeine.
By visiting your dentist every six months, you'll be able to treat any issues that may be caused by your dry mouth. That way, they don't have an opportunity to progress into something more serious like a tooth infection. With regular brushing and flossing, paired with proper preventive care, you'll be able to prevent this condition from wreaking havoc on your pearly whites.
About the Author
Dr. Natalie Ortiz continues to sharpen her skills and expand her knowledge by taking continuing education courses. She has mastered CEREC technology and is a certified Invisalign provider as well. She focuses on providing all of her patients with high-quality preventive care that keeps the small issues from becoming big problems down the road. That way, her patients don't have to deal with costly procedures, discomfort, or having to schedule multiple dental appointments for invasive treatments. For questions or to schedule a routine checkup and cleaning, visit Painted Skies Dental Center's website or call 575-521-8720.