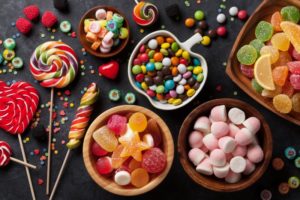 A lot of us have bad habits, like procrastinating on projects or staying up too late. Many of the bad habits we have are much worse for your teeth than you might think. You only get one set of permanent teeth, so it's important to keep them healthy for as long as possible. keep reading to learn 5 bad habits that your dentist in Las Cruces says you should stop today.
1. Gummies and Potato Chips
We all know that too much sugar is harmful to our teeth. One of the most popular examples of this is gummy candy. The sugar in these snacks get stuck to your teeth and attract bacteria that can wear down your enamel, resulting in cavities and even sensitivity down the road.
Although it may not be as obvious, potato chips do the exact same thing. They might not be full of sugar, but they can still wreak havoc on your teeth, especially if you have plaque, which most of us do. Bacteria in plaque breaks down the starches in chips the same way it does sugar. This creates an acid that erodes your enamel. If you're going to eat gummies or potato chips, be sure to brush thoroughly afterwards.
2. Brushing Too Aggressively
Make sure not to brush too hard, though. Sometimes we might assume that brushing with more force means we're doing a better job, but that's actually false. Brushing in a gentle circular motion should be plenty to remove plaque. Also, pick a brush with soft bristles to minimize the pressure on your teeth and gums.
3. Chewing on Inedible Things
Your teeth should be used for chewing food only. Many of us like to bite things like ice, pen caps, or fingernails without realizing how detrimental it can be to our teeth. Not only does it wear down the enamel, but it can even cause chips or cracks in your teeth. To avoid these majorly painful mishaps, only use your teeth for eating food.
4. Grinding Your Teeth
Many of us lead stressful lives these days, and stress can manifest as teeth grinding. Since most of the time it happens when we sleep, there isn't a way to stop it besides learning to effectively manage stress. You can do this through many activities like:
Journaling
Yoga
Drinking green tea
Practicing mindful breathing exercises
If you still find yourself mindlessly grinding, ask your dentist about a nightguard to prevent your teeth from touching while you sleep.
5. Smoking
Everyone knows the harmful effects of smoking on your lungs, but not as many people know it can seriously damage your teeth, even to the point of losing them! If you need help quitting, talk to your dentist or doctor. They can offer resources to help you.
It's important to take care of your teeth while you still have them. Quit these bad habits to keep your smile in good shape.
About the Practice
At Painted Skies Dental Center, Drs. Ramon and Natalie Ortiz provide excellent dental care in a warm and comfortable environment. We will work with you to create a personalized treatment plan for your mouth and your body. To learn more about how to take care of your teeth before problems arise, contact the doctors by clicking here or calling (575)-521-8720.