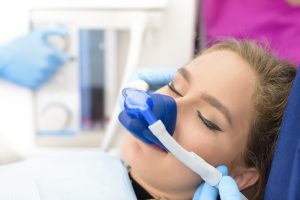 Does the thought of going to the dentist make you break out in a cold sweat? Would you rather live your life with terrible tooth pain than set foot in a dentist's office? You're not alone. Many adults are so scared of the dentist that they avoid treatment at all costs. But it doesn't have to be this way. Your dentist in Las Cruces offers 2 types of sedation dentistry to help you relax.
What Is Sedation Dentistry?
Sedation dentistry uses medication to help patients relax so they feel comfortable receiving the dental care they need. While under sedation dentistry, you're usually awake, but you're not stressed like you normally would be.
Do I Need Sedation Dentistry?
If for whatever reason you tense up at the thought of going to the dentist, you would make a good candidate for sedation dentistry. It is generally used for patients who:
Have a low tolerance for pain
Have sensitive teeth, gums, or gag reflex
Can't sit still in the dentist's chair
Need a large amount of dental work completed at one time
What Types of Sedation Dentistry Are There?
Your dentist in Las Cruces offers 2 types of sedation dentistry:
Nitrous oxide sedation: The patient inhales nitrous oxide through a mask worn over the nose. It takes effect quickly, and allows you to feel comfortable. Once the mask is removed, the gas should wear off within 15 minutes, allowing you to drive yourself home or to work. Nitrous oxide sedation is ideal for those with mild dental anxiety.
Oral conscious sedation: If going to the dentist fills you with terror before you even leave home, you might require oral conscious sedation. You will take a sedative before your appointment at a time predetermined by your dentist. The sedative will begin to take effect before you arrive at the office, so you will need someone to drive you to and from your procedure. You will be in a relaxed and peaceful state for about 12 hours after taking the sedative, so most patients don't even remember their treatment. Oral conscious sedation is highly recommended for patients with moderate to severe dental anxiety.
Gone are the days when you had to suffer through a toothache because you were afraid of getting treatment. Now you can receive the care you need with sedation dentistry. Schedule your appointment today, and you might not even remember it after it's done!
About the Practice
At Painted Skies Dental Center in Las Cruces, New Mexico, your dental fears will be soothed. The husband and wife team of Dr. Ramon Ortiz and Dr. Natalie Ortiz are both certified in sedation dentistry to help you relax and get the treatment you need, completely stress-free. To learn more about how they can cure your fear of the dentist, contact them at (575)-521-8720.