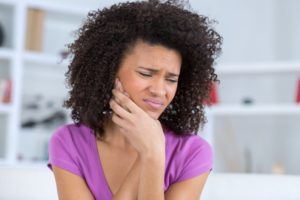 Waking up on a Monday morning is already bad enough. Waking up with a sore jaw, a headache, or tooth pain makes it even worse. Why are you starting the day with this pain? You're probably grinding your teeth while you sleep. This is mainly caused by stress or problems such as missing or crooked teeth. You can't control what you do while you sleep, but you can help protect your teeth from further damage with a nightguard. A dentist in Las Cruces discusses why using a nightguard is a great investment.
What is a Nightguard?
A nightguard is a protective device worn over the teeth and gums to prevent injury from grinding or clenching. It looks similar to a retainer or a mouthguard used in sports. However, it does not straighten teeth or protect them from sports-related injuries. Simply wear it at night to protect your teeth from gradual wear and tear caused by grinding.
Why Am I Grinding My Teeth?
The most common reason people grind their teeth is untreated stress or anxiety. Teeth grinding can also be the result of:
Missing teeth
Crooked teeth
Sleep disorders such as sleep apnea
According to the American Sleep Association, 10 percent of adults and 15 percent of children grind their teeth during sleep. As you can see, it's a bigger problem that one might think!
What are the Benefits of Using a Nightguard?
Wearing a nightguard can drastically improve your life in several ways, including:
Improving the quality of your sleep
Protecting against damage to your teeth, gums, and jaw
Alleviating morning headaches and tooth and jaw pain
Am I a Good Candidate for a Nightguard?
Because grinding and clenching happen in our sleep, there isn't a surefire way of diagnosing the condition yourself. Visit your dentist for an evaluation if you experience any of these symptoms:
Unexplained tooth pain in the morning
Sore jaw
Dull, constant headaches
Why Should I Get a Nightguard From My Dentist?
Many stores and pharmacies sell one-size-fits-all nightguards. Although cheaper, they do not provide the benefits of getting a custom-made nightguard from your dentist, such as:
More comfort. A nightguard from your dentist is specifically molded to fit your teeth, making it less awkward and more natural to wear.
Greater effectiveness. When your nightguard is designed for you, it works better. Your jaws will be more properly aligned, preventing jaw pain.
Durability. Because commercial nightguards are cheaply made, they are not meant to last as long as those from your dentist. Custom-made nightguards are made to provide relief and comfort for up to 10 years.
You don't have to wake up with pain anymore. Visit your dentist for a custom-made nightguard to help you improve your sleep and your life. Maybe then waking up on Monday morning won't be so bad after all!
About the Practice
At Painted Skies Dental Center, Drs. Ramon and Natalie Ortiz work to create a relaxing, stress-free environment for the whole family. If you're looking for a nightguard, this is the place for you. The doctors use an advanced digital scanner to make impressions of your mouth, leading to more accurate results for you. To learn more about how you can protect your teeth with a custom-made nightguard, click here or call (575)-521-8720.