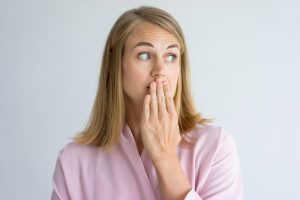 After finishing up a discussion with a coworker, you held your hand over your mouth to see if it was your breath that was smell you noticed, and it was. It's no wonder they were itching to get back to their office and further away from you. You begin to wonder how many other awkward run-ins you've had with a smelly mouth and how that affects the way people think of you. Luckily, your dentist in Las Cruces can help you tackle bad breath with these 5 tips.
Brush and Floss Regularly
The American Dental Association recommends that you brush twice a day, floss, and use mouthwash. By establishing this recommended oral hygiene routine, you can effectively get rid of built-up plaque and tartar and prevent your mouth from becoming a bacterial breeding ground. When bacteria collect, they produce an unpleasant smell and can cause bad breath. Additionally, leaving food debris to build up by not flossing can also result in a foul odor.
Don't Forget to Clean Your Tongue
Even though you may be brushing and flossing, you could be experiencing bad breath because you're not cleaning your tongue properly. Everything you eat encounters it, making it the perfect place to collect food particles and bacteria, causing bad breath. Be sure to use your toothbrush or a tongue cleaner to clear your tongue of any dead cells and odor-causing debris.
Drink Plenty of Water
You may not have guessed it, but water can be your best friend when it comes to bad breath. People often get dry mouth when they can't produce enough saliva. When this happens, there's nothing to help rinse away and dislodge food debris and bacteria, which can result in cavities and infections as well as smelly breath. Drinking a lot of water throughout the day can help your mouth stimulate saliva production.
Visit Your Dentist Twice a Year
Seeing your dentist for your routine semi-annual checkups and cleanings is the best way to avoid oral health issues like bad breath. During your visit, they'll use special tools that aid in removing excess plaque and tartar that you can't get rid of with a toothbrush. They can also let you know if your bad breath is a symptom of a more serious oral problem such as gum disease.
Avoid awkward run-ins with bad breath by testing out these 5 tips to keep your breath refreshing and clean-smelling. Instead of letting your breath make you and the people around you uncomfortable, schedule a dentist appointment so you can get to the root of the cause.
About the Author
Dr. Natalie Ortiz has a passion for helping her patients achieve a smile that they're proud of. She is regularly attending continuing education courses so she can provide her patients with the highest quality of care that they deserve. She takes pride in giving her patients a comfortable environment where they can get the individualized care they deserve. For any questions or to schedule your semi-annual checkup and cleaning, visit Painted Skies Dental Center's website or contact 575-233-6648.