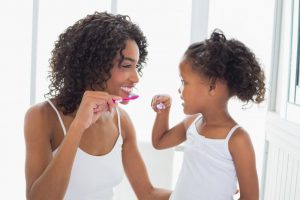 You love to see your child's adorable smile. It brightens your day and warms your heart. You would do anything to keep seeing that smile, wouldn't you? Well, many children face a dental problem that can impact much more than their teeth. This February, which is National Children's Dental Health Month, make sure your child knows how to care for their smile, so you can better set them up for success and good oral health. Check out this helpful information from your dentist in Las Cruces.
What dental problems is my child at risk for?
The most common condition that children face is cavities. In fact, your child is five times more likely to get a cavity than asthma, and it is estimated that 20% of children ages 5 through 11 have at least one untreated decayed tooth. Cavities can give your child pain or infections and can lead to difficulty in eating, sleeping, playing, paying attention in school, and smiling. In fact, studies have shown that children with oral issues earn lower grades than those who have good oral health. Cavities may be small, but they can cause big problems.
What are good oral habits that I should teach my child?
Dealing with and preventing tooth decay starts with essential healthy oral habits, including the following:
Brushing at least twice a day.
Flossing at least once a day.
Visiting the children's dentist in Las Cruces twice a year for checkups and cleanings.
These habits prevent tooth decay in the first place or at minimum allow the dentist to catch and treat decay early, before it interferes with your child's life. There are also other habits that help ensure your child's dental health:
Consuming less sugar.
Drinking more water, instead of juice or soda.
Getting dental sealants as soon as their permanent teeth grow in.
Why do I need to start good oral habits early with my child?
It's never too early to start teaching your child the importance of their dental health. In fact, even before their teeth come in, you can use a washcloth to wipe the bacteria off their gums. When their teeth come in, switch to a toothbrush. After their first birthday, your child should be going to the dentist every six months. Establishing these habits early can help your child accept them as integral parts of their schedule. They can also become accustomed to the dentist and their tools, helping prevent dental anxiety in the future. If you take the time and effort to teach your child these habits early, they will be more likely to continue these habits into adulthood.
By implementing these habits into your child's life, you help them learn the importance of their oral health. This February, take an opportunity to refocus on your child's dental health, so both you and they can enjoy their happy, healthy smile for years to come. For more information about children's dental health, contact your dentist in Las Cruces.
About the Practice
At Painted Skies Dental Center, there are two experienced, talented dentists. Dr. Ramon Ortiz and Dr. Natalie Ortiz and their staff offer a comprehensive suite of dental services, including restorative, cosmetic, emergency, sedation, and preventive care, for patients of all ages. To contact them for an appointment, you can call (575) 233-6648 or click here.