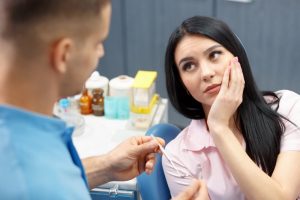 Like most people in your position, you're probably nervous about your upcoming appointment to get a root canal. You don't need a reminder of the pain you're in, and you don't even want to consider the discomfort after. Fortunately, your dentist in Las Cruces is ready to cure your worry and let you know how getting a root canal will improve your quality of life. 
What is a Root Canal?
Getting a root canal can sound like a daunting task, but with an incredibly high success rate, it could ease your pain and provide you with the comfort you've been longing for. Root canals take place after a crack in a tooth has made it at risk to infection. They can also occur when tooth decay has spread below the surface of the tooth.
The procedure involves your dentist accessing your tooth to remove the nerve and pulp and then clean and seal it. When the nerve or pulp of the tooth is damaged, bacteria and decay can build up within the tooth and cause an infection. If the infection spreads, it can cause:
Most patients associate the pain from their infection with the procedure itself, when really, the procedure provides you with intense relief.
How Do I Know if I Need a Root Canal?
There are many different reasons you would need to get a root canal. Here are a few:
If you're experiencing one or a couple of these symptoms, it is best to let your dentist know to determine if you could have an infection or need a root canal.
Will My Root Canal Hurt?
The bad reputations that root canals have are mostly urban legends because they are relatively painless. The area around your tooth will be numbed before your dentist starts to treat the pulp. After this is done, you will experience significant relief from chronic pain and toothaches!
After you get your root canal done, you may experience slight discomfort or some sensitivity because of inflammation. You can usually help this with over-the-counter medicine like ibuprofen. Depending on the severity of your infection, patients usually recover within 48 hours of the procedure.
It can be scary getting new dental procedures done, but your dentist would only suggest these procedures if they were vital to your health and wellbeing. It's important to keep up with your routine checkups and let your dentist know if you feel anything out of the ordinary. If a root canal becomes necessary, you don't have to put your life on pause! This treatment can be a walk in the park.
About the Practice
Drs. Ramon and Natalie Ortiz demonstrate their commitment to their field by furthering their studies and advancements in dentistry. They offer a wide variety of general and advanced services, including pain-free root canal therapy, emergency care and same-day crowns with CEREC technology. If you have any questions or concerns about tooth pain or root canals, please visit their practice website or contact (575) 233-6648.