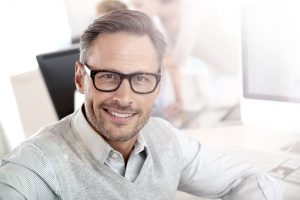 Brushing your teeth before you leave for work in the morning is a good way to maintain a healthy smile and start the day off right. However, caring for your smile should not stop once you walk out the front door. According to a study conducted by the Academy of General Dentistry and Oral-B Laboratories, only 14% of Americans brush their teeth during work hours – but over 75% eat two or more times a day at work! Without proper oral hygiene, drinking coffee and eating while at work can stain your teeth and allow harmful bacteria to build up in your mouth. If you want to protect your healthy smile, consider these tips from a dentist in Las Cruces on how to care for your teeth at work.
Avoid Sugary Snacks
In many workplaces, sweets and other snacks that can harm your dental health can be hard to avoid. Even if you hold off grabbing a donut in the morning from the break room, when those afternoon cravings strike you may no longer have the self-discipline to say no.
However, tooth decay is caused by bacteria that feed on sugar, so eating donuts, cake for a coworker's birthday or other sweet treats can damage your teeth. The best way to resist the temptation is to pack your own healthy snacks, such as:
Trail mix
Bananas, apples or oranges
Cheese sticks
Yogurt
Drink Plenty of Water
Drinking plenty of water throughout the workday will not only keep you hydrated but can also benefit your teeth. That is because tap water in most communities contains the mineral fluoride, which protects teeth from tooth decay and helps prevent cavities. Try bringing a water bottle with you to work and filling it up periodically throughout the day.
Keep a Dental Hygiene Kit at Work
Cleaning your teeth after eating lunch or even after your morning coffee will help keep your mouth feeling fresh and prevent bacteria build-up. However, it is difficult to brush your teeth if you do not have the right tools available. Indeed, research has found that people who leave a toothbrush at the office are 65% more likely to brush their teeth during the day.
If you work in an office setting, store an extra dental kit with a toothbrush, toothpaste and floss in your desk drawer. Another option is to buy a travel-sized toothbrush and toothpaste to keep in your purse or briefcase, especially if you are often on the go for work.
Caring for your teeth should always remain a priority, whether you are at home, at work, or even on vacation. By following the simple dental care tips above, you can maintain a healthy smile for years to come.
About the Author
With over a decade of experience since graduating from the Creighton University School of Dentistry, Dr. Natalie Ortiz enjoys educating patients on how to maintain a healthy smile. In fact, she believes that learning is a life-long pursuit, which is why she has attended prestigious continuing education courses after dental school. For more dental tips and tricks, visit the Painted Skies Dental Center website or call Dr. Ortiz at 575-521-8720.