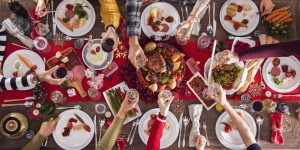 As the temperature begins to drop and the festive lights go up, families and loved ones across the country are gathering to celebrate the holiday season together. This time of year is filled with feelings of joy, gratitude and… feeling stuffed! From pumpkin pie to sugar cookies, tasty foods and treats abound during the holidays. However, all that sugar can put your teeth at risk of tooth decay. Developing a cavity is sure to put a damper on your holiday spirit. Fortunately, a dentist in Las Cruces is here to help. Follow the preventive dental care tips below to maintain a happy, healthy smile this holiday season.
Pick Your Holiday Treats Carefully
Sugary treats that are common during the autumn and winter holidays – like candy corn, Christmas cookies, eggnog, and more – can easily lead to tooth decay. However, you don't have to completely exile yourself from the dessert table! Plenty of treats are good for your teeth – or at least do little harm. Some such items include:
Gingerbread
Nuts
Cheeses
Peppermint-flavored treats
Be a Smart Traveler
Many families find themselves hitting the road or flying to visit relatives during the holidays. Traveling can often disrupt one's oral hygiene routine, but a little preparation can go a long way to ensuring you do not neglect your dental health while away from home. One simple tip is to make a list of everything you need to keep your teeth clean, such as:
Toothbrush
Fluoride toothpaste
Dental floss
Travel-sized mouthwash
Next, try to pack these items first so you do not forget them. If you are still worried that you might forget and leave your toothbrush behind, consider buying a second travel toothbrush and small toothpaste to keep in your suitcase at all times.
Practice Proper Oral Hygiene
Of course, maintaining a healthy smile during the holiday season begins with practicing proper oral hygiene. Even with all the busyness of this period, it is important to keep up with one's usual schedule of brushing twice a day and flossing at least once daily.
How you brush is also critically important. Here are some tips to help perfect your brushing technique:
Choose a soft-bristled toothbrush and fluoride toothpaste
Hold your brush at a 45-degree angle
Brush all sides of your teeth – the inside, outside and chewing surfaces
Brush for a full two minutes each time
Don't forget to brush your tongue as well!
The holiday season should be a time for reflection on what one is grateful for – not full of worry about one's dental health. Follow the tips above to stay smiling throughout this festive time of year!
About the Practice
Patients in Las Cruces, Sonoma Ranch and other surrounding communities know where to turn for excellent, personalized dental care. From regular dental checkups to emergency dental care, the team at Painted Skies Dental Center has the expert knowledge and experience to keep you smiling during the holiday season. For more preventive dentistry tips, visit the Painted Skies Dental Center website or reach them by phone at 575-521-8720.