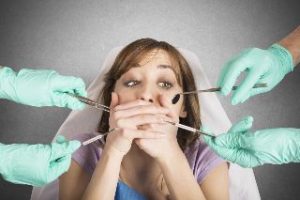 Everyone, regardless of their age, is afraid of something. Unfortunately, fear is one of those emotions that doesn't respond to logic. Dental phobia is a great example: Even though you know (on an intellectual level) that it isn't dangerous to be in the dental chair, your body still reacts as if you're being chased by a saber-toothed tiger! But since so much of your quality of life depends on good oral health, dental care isn't something you can avoid. The good news is that you have multiple options for managing your fear and still getting the care you need from a dentist in Las Cruces. Keep reading to learn about some tips and tricks for dental phobia and also which sedation options are available!
Use Relaxation Techniques
You would be amazed at how beneficial relaxation techniques can be. Slowly breathing in for a count of 3 and out for a count of 5 can help immensely. This type of breathing gives you something to focus on and also signals your nervous system to relax.
Meditation, yoga and exercise are also very helpful, as well as bringing in some earphones and music to distract you from the dental work you're receiving.
Talk To Your Dentist
Communication is key. Simply being able to explain your needs and feel heard will go a long way towards minimizing your anxiety. That's why it's important to choose a dentist who not only has experience, but also a calming chairside manner.
Remember, although you might feel like you're the only person on the planet who has such terrible fear, there are many patients in the same boat!
Dentists are very accustomed to working with fearful patients and have received training to help them make dental work a positive experience. Their goal is to make having a healthy smile for life as easy as possible!
Consider One of Your Sedation Options
You also have options for sedation dentistry in Las Cruces that are incredibly effective at reducing fear and anxiety. Talk with a dentist about which one is right for you:
Oral Sedation – With this option, you'll take a prescription medication by mouth prior to your visit that will make you feel very calm and relaxed. An added bonus is that many people have no memory of their dental work. With this type of sedation, you'll need to have someone drive you to and from your appointment.
Nitrous Oxide – Also known as "laughing gas", this is an odorless gas that you'll breathe through a comfortable nosepiece during your treatment. You'll still feel very relaxed during your visit, but you'll be back to normal a few minutes after being done and can drive yourself home.
Good oral health is essential for your quality of life. With these options, you can still get great dental care – minus the fear!
About the Author
Dr. Natalie Ortiz is a general, cosmetic and restorative dentist who is known for her gentle and reassuring chairside manner. Her goal is to help every patient achieve outstanding oral health and gets immense professional satisfaction when she can make dental care a positive experience for a fearful patient. If you have any questions, she can be reached via her website or at (575) 521-8720.