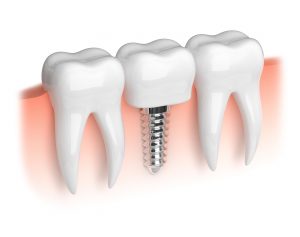 In a row of bright, white teeth, the dark empty space where a tooth is missing can really stand out. If you are one of the 120 million Americans that is missing a tooth according to the American College of Prosthodontists, chances are you may feel embarrassed to smile, laugh or even speak around others. Missing teeth and incomplete smiles can do real damage to a person's self-esteem, but thankfully there are solutions available. If you are searching for a reliable way to fill the gaps in your smile, read on to find out if dental implants in Las Cruces are right for you.
What is a Dental Implant?
A dental implant is a titanium screw that fuses with natural bone beneath your gums to provide a safe, stable base to support a new crown, bridge or denture. Dental implants can replace one, several or even a full set of teeth and they provide a long-term solution to filling in those gaps in your smile.
Dental Implant VS Traditional Alternatives
The biggest difference between dental implants and conventional bridges and dentures is that implants do not rely on adjacent teeth for support or function. Partial dentures require other teeth to hold them in place, and those teeth become weakened over time from normal chewing. Traditional bridges, meanwhile, require the shaving down of good tooth structure to fit in place in your mouth.
Dental implants, on the other hand, mimic a tooth's natural root structure and provides stability to the jawbone without damaging other teeth. This stability means you can bite into an apple or eat corn on the cob with confidence, unlike with other tooth replacement methods like full dentures.
In addition, because they are made from titanium, dental implants are more durable than conventional bridges and less susceptible to decay and gum problems, making them an ideal solution for a lasting smile.
Am I A Good Candidate for Dental Implants?
Most people are excellent candidates for dental implants, but there are several factors that are critical to success. You may be a good candidate for dental implants if:
You have healthy gums – Healthy gums help support healthy teeth. If you have gum disease, it will need to be treated and reversed before you can receive a dental implant.
You have sufficient jawbone depth – Because the dental implant is anchored in the jawbone, you must have enough bone mass for the procedure to be successful. For patients that have lost bone in their jaw, bone grafts may be an option to rebuild and deepen the bone.
You practice excellent oral hygiene – Just like with your normal teeth, daily brushing and flossing are key to keeping your implant in excellent condition.
Dental implants offer a stable, comfortable and natural-looking tooth replacement that can restore your smile and your self-confidence. If you still have questions regarding dental implants in Las Cruces, give your dentist a call today.
About Painted Skies Dental Center
Drs. Ramon and Natalie Ortiz and the team at Painted Skies Dental Center are dedicated to providing Las Cruces families and individuals with high quality, patient-centered dental care. If you are still unsure about whether dental implants are right for you, feel free to visit the Painted Skies Dental Center website or call the office at +1 575-521-8720.