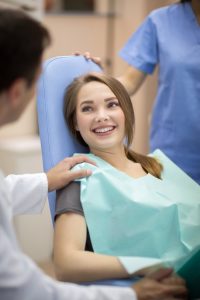 So, you've either decided you want dental implants or that you want to learn more about them. Unfortunately, you don't really know much about the process or what certain terms mean. Know this: dental implants are not the same as previous tooth replacements; they're better.
Traditional tooth replacements only replace the visible portions of teeth. It's also common for them to be mounted on preexisting teeth or mounted to your jawbone and gum tissue. Implants on the other hand, replace your entire tooth and simultaneously restore the roots underneath your tooth. Let your dentist in Las Cruces break down some of the terminology for dental implants.
The Basic Components of Dental Implants
There are three main components that make up any dental implant. These are the implant itself, the abutment, and the crown.
Implant – This is the fixture or base for your new tooth. It looks like a very small screw that's designed to fuse directly to your jawbone. This fusing process is called osseointegration.
Abutment – This is the connector for your implant and new tooth. It attaches directly into the implant and crown, keeping them both in place for years to come.
Crown – Also referred to as a cap, the crown sits on top of the abutment. When getting implants, the crown is ground down to fit the abutment better, keeping it more secure.
Endosteal vs. Eposteal vs. Subperiosteal Implants
Knowing which implant you're getting is important when discussing your options. Below is a brief breakdown of the different kinds:
Endosteal – This is the most commonly used implant designed to hold one prosthetic tooth. To fit this style, the dentist will place small screws directly into the jawbone via surgical procedure.
Eposteal – A less common type of implant that rests directly on the jawbone rather than with additional hardware. This implant is more reserved for those with higher risk of advanced bone resorption, or the breakdown of tissue in bones by osteoclasts.
Subperiosteal – This implant acts as a wireframe that rests on top of the jawbone. Connected to it are posts that the prosthetic teeth connect too. This implant is often used for individuals with low bone height or for those who are unable to wear conventional dentures.
The Materials Commonly Used in Implants
The hardware used for implants is incredibly durable and designed to last several decades, ideally for the lifetime of the owner. Understanding these materials is important since they will be brand new components of your body. These include titanium, ceramic, and zirconia.
Titanium – Most dental implants made today are made with titanium for several reasons. They are light, very strong, and biocompatible, meaning it will ossify well with your preexisting bone tissue. It's also very rare for people to be allergic to, making it a versatile material for implants.
Ceramic – This material is made of clay and hardened by heat to form your implant before being installed. Some people believe it offers a more natural look compared to titanium and is also considered a good alternative for those allergic to metal.
Zirconia – Another alternative for those allergic to titanium, Zirconia implants have no prosthetic connections which will reduce the risk of bacteria growth. As a result, gum health may improve with implant as well.
About the Practice
Painted Skies Dental Center welcomes patients to a stress-free environment and a wide variety of dental services. Whether it's preventative, restorative, or anything in between, the team is always ready to educate you on your oral health options. This includes dental implant crowns and implant-retained dentures. To learn more about these procedures, contact them at (575) 521 8720 or visit their website.