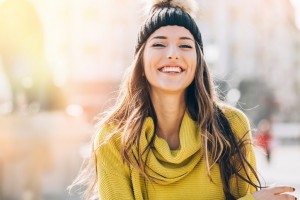 NBC News reports that the number one New Year's resolution is "Get Healthy", and second most common is "Get Organized." What do you want to do or see change in 2017? Some people, and maybe you are one of them, would like to enhance the appearance of their smiles. Cosmetic dentists in Las Cruces, Dr. Ramon Ortiz and Dr. Natalie Ortiz, help older teens and adults reach their smile goals each and every year. What could they do for your smile? Find out what they offer at Painted Skies Dental Center.
The Cosmetic Dentistry Consultation
When you come to Painted Smiles Dental Center in Las Cruces, your dentist first will perform a comprehensive dental examination. This ensures your teeth and gums are healthy, and if there are problems, they will be addressed before going on to any aesthetic goals.
Dr. Ortiz also will want to know how you would like to smile your teeth and gums to change. For instance, do you want to::
Remove dark amalgam fillings
Remove deep stains from food or cigarettes
Improve tooth alignment
Fill gaps, chips and surface irregularities
Even tooth length
As a cosmetic dentistry patient, you should think carefully about the finished product–in other words, your dream smile. Consider your time commitment and your family budget, and envision how simple or complex you want smile changes to be. Together, you and your dentist will arrive at a workable treatment plan, and you will be on your way to a new smile using one or more modern cosmetic services.
Aesthetic Services
At Painted Skies Dental Center, Dr. Ortiz offers these outstanding treatments:
Zoom! Whitening An in-office treatment, Zoom! Whitening brightens stained teeth by several shades in just an hour. It utilizes strong hydrogen peroxide gel applied to tooth surfaces as the patient relaxes in the dental chair. A special activation light speeds the process, rendering a white smile safely. In addition, Dr. Ortiz makes an at-home version available for more gradual whitening.
Porcelain veneers and Lumineers Shell-shaped laminates of fine dental ceramic, porcelain veneers cover the front of teeth that have obvious defects such as cracks and deep stains. Created according to digital imaging and oral impressions, veneers are translucent, realistic and durable. Lumineers are a reversible version of porcelain veneers. They require no enamel preparation and are applied in one visit.
Tooth-colored fillings Made from composite resin, these white restorations bond right to tooth enamel, preserving more natural tooth structure than amalgam fillings. Additionally, composite resin reshapes chipped corners, gaps, mild overcrowding and other defects in one short dental visit.
Invisalign clear aligners An invisible alternative to traditional metal braces, Invisalign appliances snap over top and bottom teeth, straightening them in an average of one year. Appropriate for many common orthodontic problems, these invisible aligners move teeth into better positions without the obvious appearance, discomforts, hygiene regimens and dietary restrictions of conventional metal or ceramic braces.
We Can Help You with Your Resolution
Your smile goals for the New Year are attainable with the help of Drs. Ramon and Natalie Ortiz.
Contact Painted Skies Dental Center for your cosmetic dentistry consultation. Take advantage of their wide skill set and intense interest in helping people achieve their best smiles ever.