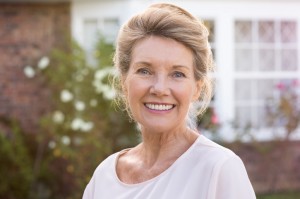 Dental implants are the best tooth replacement available today. Drs. Ramon and Natalie Ortiz, dentists in Las Cruces, recommend dental implants because they preserve and strengthen the jaw bone after tooth loss.
Comprised of a titanium screw, metal alloy post, and lifelike porcelain crown, the dental implant resides in the jaw bone. It transfers substantial physical forces to the bone as the individual bites and chews, effectively exercising It. The bone bonds to the titanium implant through a natural  process called osseointegration, the secret behind these amazing prosthetics.
The Dental Implant Procedure
The dentist in Las Cruces carefully examines the patient desiring dental implants. It's important that the jawbone be strong and dense so it retains the implant screw. However, if bone is weak or narrow, the dentist can strengthen it through bone grafting or other augmentation procedures.
The patient must be in good oral and systemic health, too. He or she must be disciplined about at-home oral hygiene–brushing twice a day and flossing daily as well. While smokers may receive dental implants, smoking cessation is best for dental and overall health.
To begin the procedure, the dentist drills a small hole in the jaw. The dentist screws the titanium implant into the hole and sutures the gums closed over the site. Usually, the procedure needs just local anesthesia to numb the area.
After several weeks of healing, the patient returns to Painted Skies Dental Center to finish the process. Dr. Ortiz attaches the metal post and custom-designed porcelain crown. Both Dr. Ramon Ortiz and Dr. Natalie Ortiz use CEREC (Chairside Economic Restoration of Esthetic Ceramics) technology to design and mill the crown the very same day.  At this point, the dental implant is complete.
At home, the patient flosses and brushes as usual. He or she comes to the office every six months for hygienic cleanings and oral examinations. These practices help avoid an infection called peri-implantitis in which the gums and bone around the implant degrade because of plaque and tartar.
The Useful Life of the Dental Implant
The Academy of Osseointegration maintains that at least 90 percent of these restorative procedures succeed. In fact, dental implants are preferable to traditional bridgework and dentures because those prosthetics must be replaced every 10 years. While dental implants cost more initially, they are more budget friendly over the patient's lifetime.
Also, traditional tooth replacements do not preserve the jaw bone. Gums and bone recede quickly after tooth loss, and unfortunately, facial appearance ages, and oral function suffers.
Conversely, dental implants are versatile. Used in multiples, they anchor bridgework and full dentures. Your implant dentist will create a treatment plan that accommodates your oral health needs and personal preferences.
Learn More Dental Implants
Schedule a dental implant consultation at with Dr. Ramon or Natalie Ortiz. They will explain the entire dental implant process so you feel comfortable in receiving your new teeth. Contact Painted Skies Dental Center today!